Spiritual Healing from the Vine of the Soul
Self-care and Personal Growth through Gifts from the Rainforest: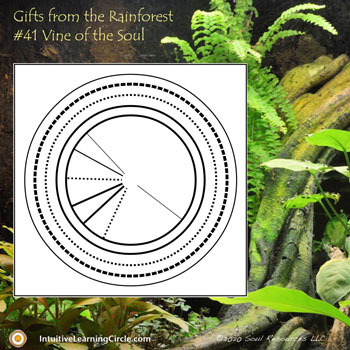 41. Vine – Ayahuasca is an ancient medicine used in ceremony for mind/body healing and soul retrieval. Her intention is to bring us back into union with our spiritual selves.
Have you given away your power? How can you regain it?
How can you effectively move out of fear and into courage?
Healing Action: Align with your inner knowing. Find a spiritual based process that will help you determine what got you off track and how to regain balance.
---
Mother Ayahuasca
For over a thousand years, shamans from
the Amazon have received healing
for their people from the Vine of the Soul.
This medicine teaches how to reconnect
with our spiritual selves and Nature.
She provides lasting physical healing
by addressing its spiritual source.
She shows us the truth about how
we have betrayed ourselves and our divinity.
She reminds us of who we are
and how we lost our identity.
Call upon this ancient tradition
and reflect on what the deeper cause
for your pain and dilemmas might be.
Your Soul knows the answer,
you have only to call upon it.
---
Mind Body Integration
For best results, gaze softly at the Circle both crossed over the midline of the body and uncrossed so that the communication is more complete.
Intuitive Learning Circles  help you access your inner guidance and self-confidence to make proactive changes. Simply relax and gaze at the Circles while contemplating its message and positive affirmations. Your intuition will come forward and give you the help that you seek.
---
Further Exploration into Ayahuasca Medicine: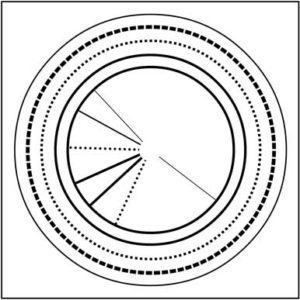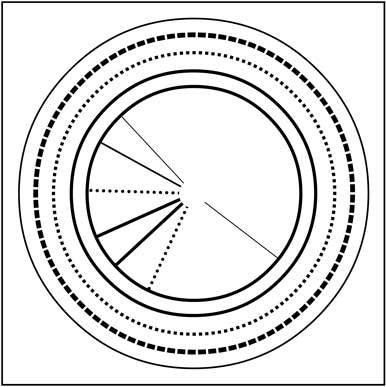 The ego is blocking the truth, although with help from your Soul, it's possible for you to see beyond your delusions and imaginary fears. Ayahuasca's Circle can show you how you are presently using your strength and Will. It can also show you how you might improve upon them.
Let her assist you as you move out of fear and into courage:
Purge lies and dangerous distractions.
Expel malignant toxins from your body and mind.
Allow your Soul to take its proper place in your experience.
Align with your inner knowing and the truth will be revealed.
Maintain your newfound health and integrity by taking good care of yourself.
You may be refusing abundance that has been coming your way or possibly you may benefit from learning how to be more compassionate. Learn to heal yourself by listening to the wisdom of your heart.
It's very important at this time to be real and genuine in your requests, because whatever you ask for, you are liable to get. Unlock your suppressed creativity and heal your Self.
---
The Vine of the Soul is an excerpt from Gifts from the Rainforest
Available exclusively From Soul Resources LLC:
OPEN YOUR HEART AND MAKE FRIENDS WITH THE VINE OF THE SOUL
Inspired by Design Therapy from the native tribes of the Amazon, the fifty-eight Intuitive Learning Circles and animal totems from Gifts from the Rainforest are self-healing tools for nature lovers who want to accelerate their spiritual growth and intuition.
♦ Find emotional healing  ♦ Deal with repetitive habits & attitudes that keep you stuck  ♦ Develop common sense  ♦ Learn to trust your gut instincts.  ♦ Receive messages from plant, animal & nature spirits.
---
Disclaimer:
The Intuitive Learning Circles should not be considered as an exclusive method of treatment. The appropriate medical or psychotherapeutic authorities should be consulted for the diagnosis and treatment of any medical or psychological condition. The information and practices described on this website are best considered as an adjunct to orthodox medical or psychological treatments.