Todays Intuitive Reading Helps You Navigate from the Energies of the Past to the Energies of the Present.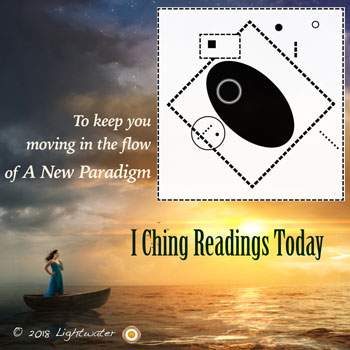 Taking part in Todays Intuitive Reading makes you part of a collective movement to complete our transition from the old societal paradigm of greed and fear and step into a New Paradigm based on co-operation, equality and living in balance with Nature.
Our Mind Exercises and Transformation Games are developed to help you go within and navigate positive change! Our goal is to strengthen mindsets and behaviors that feed joy, personal responsibility and sustainable prosperity.
Todays Intuitive Reading is brought to you by Rheanni Lightwater and Soul Resources LLC. 
To Receive Automatic Energy Updates from Rheanni, SIGN UP HERE.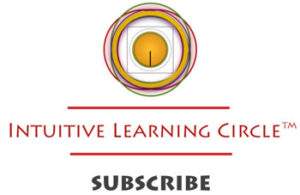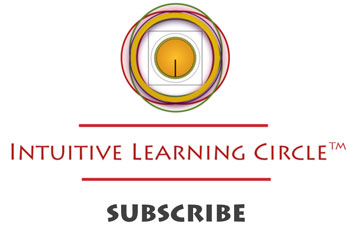 Rheanni uses the I Ching or The Book of Change ~
"The I Ching may be the oldest book on the planet. Like the Old Testament, the pyramids, and the great Gothic cathedrals, The Book of Change was a cooperative effort spanning many centuries… early authors of the I Ching observed the stars and tides, the plants and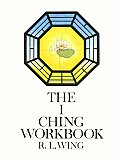 animals, and the cycles of all natural events. At the same time, they observed the patterns of relationship in families and societies, the practice of business, the craft of government, the grim art of warfare, the eternal human dramas of love, ambition, conflict, and honor. They made no attempt to create a fixed chart of the cosmos. Instead, they organically grew a guide to the way things change: a marvelous, fluid, interconnected systems of relations…
– The I Ching Workbook, R.L. Wing
The reading is accompanied by a variety of Transformation Games and Mind Exercises by Rheanni that are intended to help you get present, grounded and centered so you can actualize your heart's desire in the New Paradigm.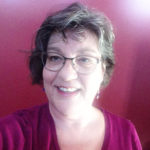 Remember, the I Ching doesn't work like horoscopes, there's really no set way to predict what the next Hexagram might be in advance, so these readings are always a work in progress! Thanks in advance for your patience.
Universal chi flows organically and we are a part of it. What we do affects it and we are affected in return. Of course, it's wisest to work with the cosmos and follow the flow rather than trying to control or resist it. Because of that, learning to navigate the flow consciously is what I consider the ultimate in both creativity and spiritual growth.
---
Understanding the Larger Picture ~
"An old way of being is much like a building. When a structure has lost it's foundation, it's natural for the people caught up in it to go into emergency and cling to something they think will stabilize them. However, if they continue to grab onto a part of the structure that's teetering on the brink, or has already fallen apart, they will only make the situation worse.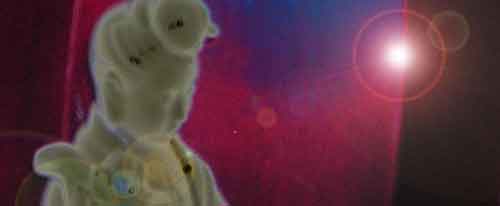 You may not be aware of how you're clinging to your own past. It may seem, in your mind, that because things used to work in a certain way, they still do. You are certain of it and believe that what you're holding onto is real. If anyone questions that, you grip even harder. This is a classic survival response and completely understandable.
You may feel safer initially, because anger and righteous indignation give you energy and help you to feel more powerful. Yet, if you do not use that burst of energy to fuel the necessary CHANGES, you will miss an important opportunity to move on into a way of being that has the integrity and structure to actually support you.
If you decide to continue in your mistake – if you double down on an untruth –  the difficulties and karmic backlash you experience will be far greater.
This is the elevated level of confusion and CONFLICT the world's social and political affairs have been navigating through."
The I Ching: Use Your Potential Energy to Make Positive Change.
The I Ching energy has given us an opening from all the stuck and confusing CONFLICT of the past few months. The conflicts remain, however  the energy of CHANGING has come in and will make it easier to find more positive opportunities to reform and reorganize ourselves as we move through them.
The flow of Hexagram #49 CHANGING will probably continue through the New Moon on June 17th, 2023.
Here are relevant excerpts from the original text:
CHANGING (REVOLUTION):
"The forces at work in the situation are in conflict, leaving the path open to change. Yet the work of bringing about such a change is as difficult as it is important. People fear change because of its unknowable effect upon the future; so when a real need for CHANGING makes itself felt, it is a serious matter indeed. Clarity, forethought, and great devotion are now required to achieve your purpose. If correctly handled, however, the results can lead to a progressive new era."
The Second Changing Line holds the most current advice:
"You have reached a point where change is both necessary and timely. To bring this about requires a strong vision of the ultimate outcome and a thorough commitment to your project, but with the correct inner attitude, you will meet with success. You will now find additional support in others." ~ Hexagram #49 CHANGING, The I Ching Workbook by R. L. Wing
The Chinese Zodiac –
The collective unconscious has always looked for guidance from the stars and  different constellations or Zodiac signs are often named after animals. In the Chinese Zodiac, 2023 is the Year of the Yin Water Rabbit, an energy that is quiet, gentle and cautious.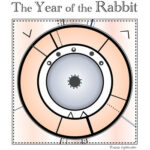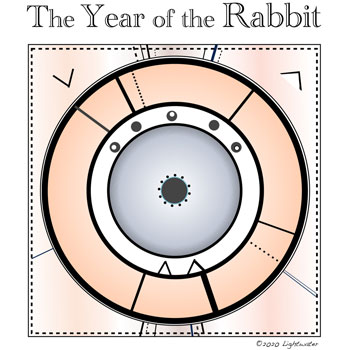 Because of our collective experience, we have universal symbols and patterns that affect us, whether or not they are often used in our own culture. Many mandalas give Americans a sense of peace and focus, even though they are not used daily in mainstream American culture. The Rabbits Feng Shui Mandala can give you a sense of what the archetype of the Rabbit is about and how it may influence you.
What does following your path in the year of the Rabbit mean for you?
If you're interested, gently contemplate its center and relax. When you're ready, ask yourself these questions and make a note of the answers you get:
"What is the most important change that I need to be ready for?"
"What is the most important thing I can focus my energy and effort on over the next few weeks before the Summer Solstice?"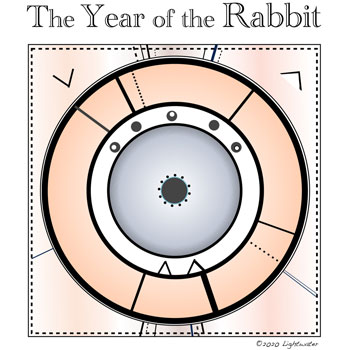 "What is the direction? Why is that important?
How can I utilize the energy of the Rabbit to my best advantage?
Is there something I'm wasting time on? Have I forgotten something?
If so, can I tell what's happening and what the best thing to do would be?"
Allow your intuition to come forward and bring guidance from your innermost Self. 
---
Soul Resources Offers Support for Your Journey: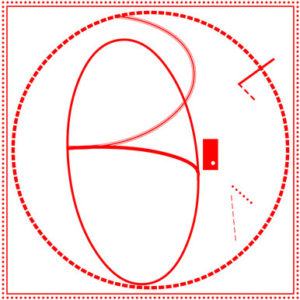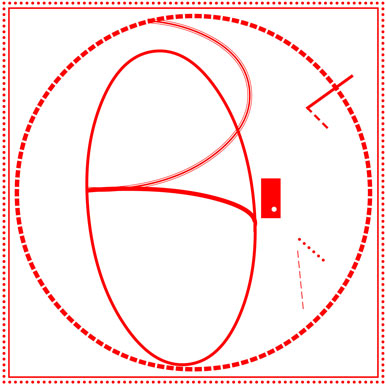 As as always, Kuan Yin has offered her help and assistance through a specially chosen collection of Transformation Games, Mind Exercises and Self-care Formulas. This summer, she is advising us to make positive change through special cooperative relationships with Plant and Animal Totems from Gifts from the Rainforest. She says, " "It is much easier to do the right thing when you are in good company. Following good examples will lead you to success."
Gaze softly at the SOS symbol and ask for a number between 1 – 9.
Scroll down to that number in the list of games and exercises below and check out what that process has to offer you.
---
Transformation Games and Mind Exercises ~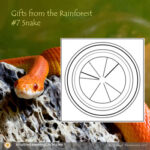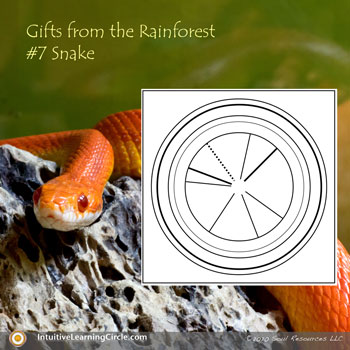 If you have a tendency to hold onto situations that are falling apart with an attitude of 'I'm going to fix this' or 'I need to stop what's happening,' you may actually be getting in the way of something that really needs CHANGING. This Transformation Game will help you learn how to let go and stop giving the situation so much negative fuel.
Shed that old skin using the Snake Guide.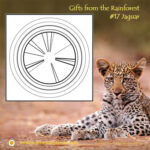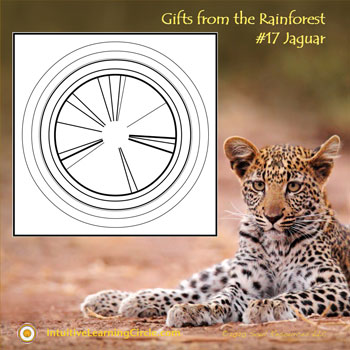 If there's a limiting pattern of resistance coming up for you, you may not be able to see the path to success and your highest potential. The fact that it's coming up could mean that now is the time to turn yourself around and aim higher. This Transformation Game will help you ADAPT to a healthier mindset and REFORM how you're doing things.
Regain your power through the Jaguar Guide.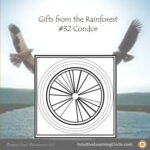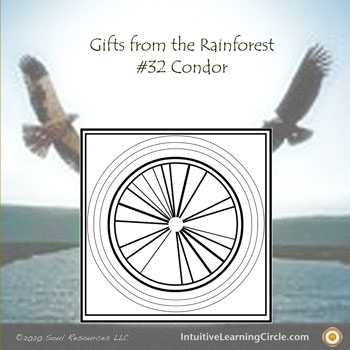 Your nervous system and your ability to communicate are intricately interrelated. Use this process to gently collect information about your nervous system and make changes that will enhance your boundaries. Help yourself to communicate in a clearer, more balanced manner.
Liberate yourself with the Condor Guide.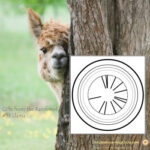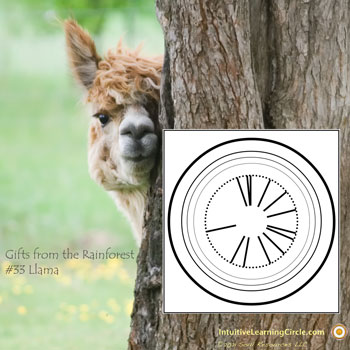 When things get difficult, it's truly helpful to ask your intuitive guidance about decisions you need to make and specific actions you need to take to be genuinely successful. Let this Animal Tutorial from Gifts from the Rainforest help you connect with your Soul to clarify, center and position yourself correctly.
Know what needs to happen with the Llama Guide.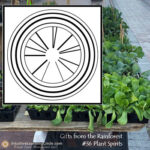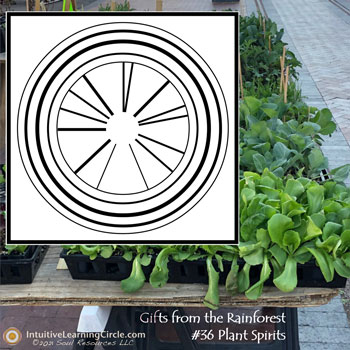 This Mind Exercise aims to clear things up enough for you to get a general picture of how you're nourishing yourself and what you need to do to raise your vibration. Utilize chakra clearing and Maslov's Hierarchy of Needs as a model to help you assess your physical, mental, emotional and spiritual priorities.
Connect with your Divinity with the Plant Spirits Guide.
---
Following the Middle Road Will Help Us Find Our Way ~
"Despite the mild balance that is reached in MODERATION, it may be necessary to take forceful action to accomplish your aims. This should not be done with a boastful display of power, but with firm, decisive and objective action. There will be improvement in whatever you undertake."  ~ Sixth Changing Line, MODERATION, The I Ching Workbook by R. L. Wing
If you are struggling with overwhelm and symptoms of ptsd, join us! Sign up for  our self-help series – SOS – Navigating Loss and Compassion Fatigue.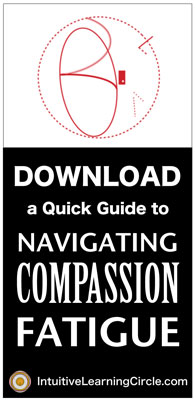 SOS Self-care Formulas and Mind Exercises can help you navigate the changes and restore your balance:
6. Exercise a Clear Sense of Direction. With so much going on, it's easy to be distracted and confused by all the intense change that's going on around you. This exercise works incredibly well to help you with your inner guidance system – warning you to slow down and get your feet back under you.
7. Establish and Maintain Healthy Boundaries. It's an indispensable skill to know how to effectively develop and maintain healthy boundaries with people who don't know how or are unwilling to stay out of your space. This Mind Exercise affirms your ability to make clear boundaries when you need to protect yourself in difficult situations.
8. Keep Up With All the Changes. If you're having trouble adjusting to the large scale changes going on – whether it's an increase in violence and erratic behavior, health, finances, the environment, relationships or your work situation – you can discover how to change more gracefully while keeping your integrity by going through this Transformation Game.

Chakra Healing and Clearing ~
Recommended Transformation Games and Mind Exercises to Keep You Moving with the Flow, Rather than Against it.
9. Advanced Chakra Healing. Because the chakras react to and reflect other subtle energy systems, an imbalance in one of the seven Primary Chakras is usually an indicator of a deeper imbalance affecting many people. Therefore, we're using the Primary Reiki Chakra Keys to help you identify what needs correction and bring new meaning to the old axiom: "When I heal myself, I help to heal the world."
Our Community Learning programs and memberships are being developed now and will be coming soon!
Thank you for joining with us for Todays Intuitive Reading and creating a New Paradigm based on common ground for the common good!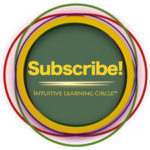 Please share if you know someone you think could benefit.
---

---
About the Author of Todays Intuitive Reading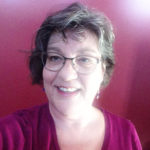 Rheanni Lightwater CHT, CKT specializes in online mind body healing and COVID support using Reiki Energy Medicine, Hypnotherapy, Dream Tending and the Intuitive Learning Circles. Specialized protocols include Advanced Energy Recalibrations for:
Enhanced Immune Response

Respiratory and Circulatory Health

Overstimulated Nervous System and Immune Response
Digestive and Intestinal Health
Sleep Difficulties and Nightmares
Chemical Sensitivities and Static Electro-magnetic Clearing
Trauma and Compassion Fatigue
Schedule with Rheanni via Zoom or in person when you visit Santa Fe, New Mexico. Call or text (505) 271-4612 between 10:00am – 5:00pm, MST, Monday through Friday to schedule or email: [email protected]
---
Disclaimer:
Todays Intuitive Reading should not be considered as an exclusive method of treatment. The appropriate medical or psychotherapeutic authorities should be consulted for the diagnosis and treatment of any medical or psychological condition. The information and practices described on this website are best considered as an adjunct to orthodox medical or psychological treatments.