Casting Stones of Forgiveness with Monkey Medicine
Self-care and Personal Growth through Gifts from the Rainforest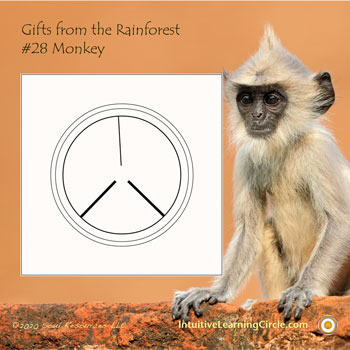 #28 Monkey – Monkey offers an opportunity to respond differently in the face of cruelty, shame or blame. Learn how to use your energy more wisely. Life has so much more to offer!
Are you spending too much time fighting and finding fault with others? 
Is your life too hard? If so, what would you rather be doing?

Healing Action: Identify if you're involved in harmful group think, curses, grudges or bad attitudes. Repairing the damage done begins by forgiving yourself first.
---
Angry Monkey
The angry mind is like an angry monkey.
It swings wildly from one tree to another,
casting coconuts and squealing curses at the top of its lungs.
The monkey-mind eagerly casts insults and stones
on friends and enemies alike whenever it feels threatened.
It has no thought about what consequences have been put into motion.
Vigilantly monitor your monkey mind.
How is it feeding you with poison?
Learn to deflect ill will from others by refusing to take their threats personally.
Their curses are merely a reflection of how they feel about themselves.
Cultivate humility when you think ill of others.
Your curses are merely a reflection of how you feel about yourself.
Approach it with compassion, and nourish it
with the milk of human kindness.
Forgiveness begins within.
---
Mind Body Integration
For best results, gaze softly at the Circle both crossed over the midline of the body and uncrossed so that the communication is more complete.
Intuitive Learning Circles help you access your inner guidance and self-confidence to make proactive changes. Simply relax and gaze at the Circles while contemplating its message and positive affirmations. Your intuition will come forward and give you the help that you seek.
---
Further Exploration into Monkey Medicine: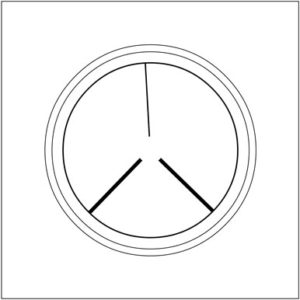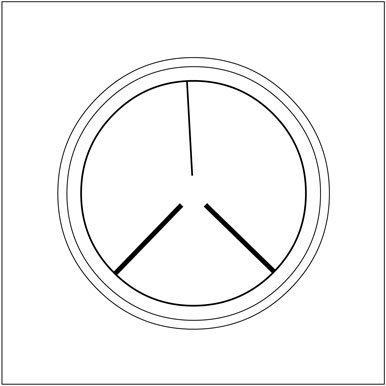 Monkey medicine speaks of the need to clear your mind of preconceived ideas and concepts that have been cursing your attempts to be peaceful and happy. Somehow, an angry mind is dominating the situation.
As you gaze at the Circle, relax and ask your Soul: "Am I mad at myself? Is someone else mad at me? What am I afraid of?"
Monkey is showing us that within every stone that's cast against another is an opportunity to learn and respond differently. Redeem yourself first and a path will open that leads to forgiving others. Take that opportunity and your life will change forever.
It could be that you're being a projection to someone because they're seeing something in you that they don't like about themselves. On the other hand, you may feel like others are throwing accusations or ridicule at you simply because that's what you expect them to do.
Don't fall for such wasteful mental activity! Look deeper into your own insecurities. This may seem unpleasant at first, but there's a gift waiting for you if you're willing to get to the bottom of this predicament. Usually it involves letting go of an old way of thinking about yourself and the world.
The monkey may also be exposing a collective illusion that's been bedeviling you in this situation. See it for what it is. Break the spell that keeps you from being who you truly are in the face of destructive groupthink. Once you can transcend the lie that's being told, a passageway that has previously been blocked will be ready for you to step through.
Gently coax your monkey mind out of the dark undergrowth of fear and resentment. Bring it into the light of day. Using Love and Forgiveness, encourage it to swing freely through the trees until it can travel to the very highest regions of the forest canopy with ease!
---
Monkey Medicine is an excerpt from Gifts from the Rainforest
Available exclusively From Soul Resources LLC:
OPEN YOUR HEART AND MAKE FRIENDS WITH MONKEY MEDICINE
Inspired by Design Therapy from the native tribes of the Amazon, the fifty-eight Intuitive Learning Circles and animal totems from Gifts from the Rainforest are self-healing tools for nature lovers who want to accelerate their spiritual growth and intuitive abilities.
♦ Find emotional healing  ♦ Deal with repetitive habits & attitudes that keep you stuck  ♦ Develop common sense  ♦ Learn to trust your gut instincts.  ♦ Receive messages from plant, animal & nature spirits.
---
Disclaimer:
The Intuitive Learning Circles should not be considered as an exclusive method of treatment. The appropriate medical or psychotherapeutic authorities should be consulted for the diagnosis and treatment of any medical or psychological condition. The information and practices described on this website are best considered as an adjunct to orthodox medical or psychological treatments.