Reciprocal Forgiveness with Rainbow Energy
Self-care and Personal Growth through Gifts from the Rainforest: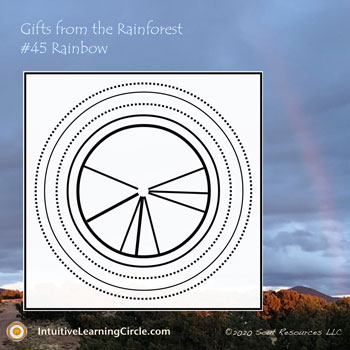 45. Rainbow Energy – Use the healing power of rainbow energy to cleanse and forgive. Activating our power to forgive will transform our world through the Law of Cause and Effect.
Ask: What are you putting out in your current situation?
Is that what you'd like to receive? 
What do you need to understand?
Healing Action: Release and transform debt, toxic thoughts, energy and intentions. Send out coherent intentions based upon Love and Forgiveness and you will receive them in return.
---
Invoking the Rainbow
Rainbow energy has always cleansed the spirit
and renewed the heart.
In it, all the potential of white energy
is manifested in the natural world.
Use its uplifting power to forgive yourself
and remove impurities from your atmosphere.
If you can forgive yourself, you can forgive others
which breaks the chain of escalating abuse, conflict and violence.
Forgiveness is key to breaking the chain.
---
Mind Body Integration
For best results, gaze softly at the Circle both crossed over the midline of the body and uncrossed so that the communication is more complete.
Intuitive Learning Circles help you access your inner guidance and self-confidence to make proactive changes. Simply relax and gaze at the Circles while contemplating its message and positive affirmations. Your intuition will come forward and give you the help that you seek.
---
Further Exploration into Rainbow Energy:
The situation is stagnant, heavy and toxic to you in some way. Perhaps you are clinging stubbornly to an idea that poisons your life or relationships. Turn away from isolation and open your heart.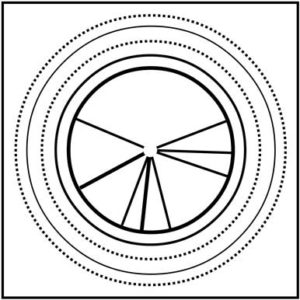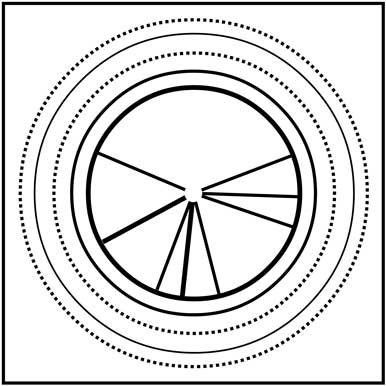 Making excuses for yourself or your behavior does nothing to rectify the situation. Just because things didn't happen the way you wanted them to does not mean that other people are to blame. Blaming yourself is even worse. Whatever happened, the reason for it is much larger than your ego will ever grasp.
Trust that you will be all right. If you are having difficulty forgiving, try giving to others who are in need. Holding onto resentment makes you small. Giving uplifts the Spirit and transforms the heart.
Don't cling to "being right" or how you've been wronged. Keep moving without dwelling on the past and find a different response. Recognize the beauty and growth that is available, even in difficult situations. There is more to the power of forgiveness than you know.
---
Rainbow Energy is an excerpt from Gifts from the Rainforest
Available exclusively From Soul Resources LLC:
OPEN YOUR HEART AND MAKE FRIENDS WITH RAINBOW ENERGY
Inspired by Design Therapy from the native tribes of the Amazon, the fifty-eight Intuitive Learning Circles and animal totems from Gifts from the Rainforest are self-healing tools for nature lovers who want to accelerate their spiritual growth and intuition.
♦ Find emotional healing  ♦ Deal with repetitive habits & attitudes that keep you stuck  ♦ Develop common sense  ♦ Learn to trust your gut instincts.  ♦ Receive messages from plant, animal & nature spirits.
---
Disclaimer:
The Intuitive Learning Circles should not be considered as an exclusive method of treatment. The appropriate medical or psychotherapeutic authorities should be consulted for the diagnosis and treatment of any medical or psychological condition. The information and practices described on this website are best considered as an adjunct to orthodox medical or psychological treatments.