Get Calm with River Medicine
Self-care and Personal Growth through Gifts from the Rainforest: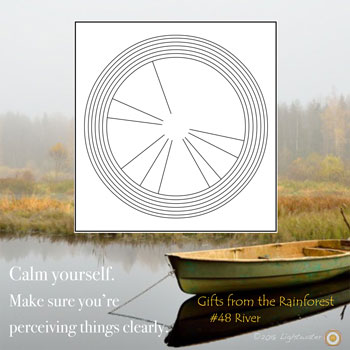 48. River – River Medicine beckons us to calm down and flow with the river of life. When we allow this to happen, we can hear the truth of the heart and Soul more clearly. This provides balance for reactivity and hypersensitivity.
Are your senses out of balance? Are you feeling reactive or hypersensitive? Have you been knocked out of balance by a sudden change or shock?
Healing Action: Relax and adjust the volume on your senses. Get more present. See things as they really are. Clear up wishful thinking. Calm down to reconnect with your Soul and the flow of life around you.
---
River Sings a Lullaby
Intuition and common sense are determined
by a balance between all of the senses,
both known and unknown.
Let the calm of the river
quiet your body, mind, and Soul.
Breathe deeply and allow homeostasis to occur.
---
Mind Body Integration
For best results, gaze softly at the Circle both crossed over the midline of the body and uncrossed so that the communication is more complete.
Intuitive Learning Circles help you access your inner guidance and self-confidence to make proactive changes. Simply relax and gaze at the Circles while contemplating its message and positive affirmations. Your intuition will come forward and give you the help that you seek.
---
Further Exploration into River Medicine:
River medicine is showing up to let you know that something's not right with how you're seeing things and experiencing the flow of life. Are you being driven by unconscious fears or attitudes in the current situation? The noise that comes from a dissatisfied ego could be preventing you from seeing a solution to your dilemma. The best way to change your circumstances is through learning how to respond to them differently. Don't react; respond by cultivating inner peace and patience with yourself.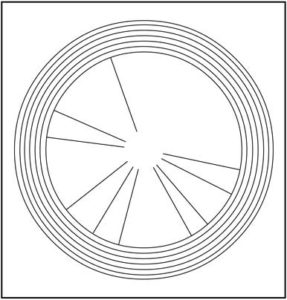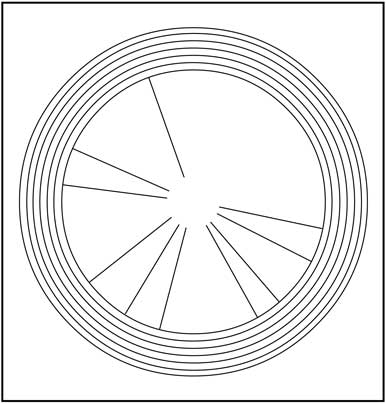 One way to do that is to gaze softly at the Circle and imagine that you're floating on a calm, benevolent body of water. Take the time to breathe deeply. Once you feel calmer, you're ready to open your senses to new solutions and gifts.
If you lose your bearings, come back to this place of calm and balance yourself again. Doing so will help you to accept the paradoxes in your life so that you can be open to new inspiration.
Or
Elevated emotions are often caused by shocking experiences that knock the senses out of balance. Have you experienced such a jarring event? When that happens, you could get sucked into a panic or overtaken by fantasies and wishful thinking. It's important for you to calm down and change the flow you're traveling on before you do some damage. Pull your senses back into "Now" by tuning into your heart and Soul.
If you're having difficulty making a decision, don't rush yourself. Breathe. Ask from a quieter place and the answer will more easily be found.
Or
You may be in a situation where it would be beneficial for you to take a chance. Nevertheless, it's wise to calm yourself first and make sure that you're perceiving things clearly. Look at the Circle and ask your heart: "Am I seeing things the way they really are?" You may not have a clear perception of where you are or what is truly going on.
Slow down and get back into the flow by asking the calm of the River, "What am I proposing to do?" Then, follow up with, "If I follow the course of that action, what's most likely to happen?"
Continue your inquiry. "Is that in my best interests? Is there something that would work better?"
Follow the flow of cause and effect. You will find that clear and calm perception significantly enhances your happiness and chances for success.
---
River Medicine is an excerpt from Gifts from the Rainforest
Available exclusively From Soul Resources LLC:
OPEN YOUR HEART AND MAKE FRIENDS WITH RIVER MEDICINE
Inspired by Design Therapy from the native tribes of the Amazon, the fifty-eight Intuitive Learning Circles and animal totems from Gifts from the Rainforest are self-healing tools for nature lovers who want to accelerate their spiritual growth and intuition.
♦ Find emotional healing  ♦ Deal with repetitive habits & attitudes that keep you stuck  ♦ Develop common sense  ♦ Learn to trust your gut instincts.  ♦ Receive messages from plant, animal & nature spirits.
---
Disclaimer:
The Intuitive Learning Circles should not be considered as an exclusive method of treatment. The appropriate medical or psychotherapeutic authorities should be consulted for the diagnosis and treatment of any medical or psychological condition. The information and practices described on this website and in Gifts from the Rainforest are best considered as an adjunct to orthodox medical or psychological treatments.