A Gift of Joy from Hummingbird Medicine
Self-care and Personal Growth through Gifts from the Rainforest: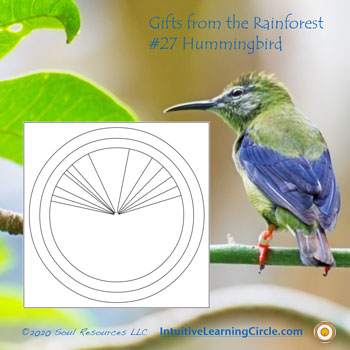 27. Hummingbird –Hummingbird Medicine brings the gift of joyful living. Raising ourselves out of ignorance, heavy thoughts, feelings and beliefs allows us to experience love and beauty.
Are you experiencing joy? Are things too complicated? What would help?
Healing Action: Take a break from your ego. Release misunderstandings and the pressure from agreements about sorrow and obligation. Bring in joyful service and oneness with your true nature.
---
Hummingbird Wings
Lift your heart to the experience of beauty
that comes from the promised land.
Hummingbird guides us to that place,
defying the gravity of thought
and raising us to the far reaches of
imagination and love.
Seek to spread the nectar of creation
and joyful service in all aspects of your life.
Release yourself from the prison of meaningless existence
and fly to a place of complete harmony
with your environment,
wherever you may be.
It is our nature to live in joy.
Accept the gift.
---
Mind Body Integration
For best results, gaze softly at the Circle both crossed over the midline of the body and uncrossed so that the communication is more complete.
Intuitive Learning Circles  help you access your inner guidance and self-confidence to make proactive changes. Simply relax and gaze at the Circles while contemplating its message and positive affirmations. Your intuition will come forward and give you the help that you seek.
---
Further Exploration into Hummingbird Medicine: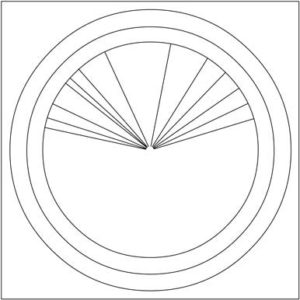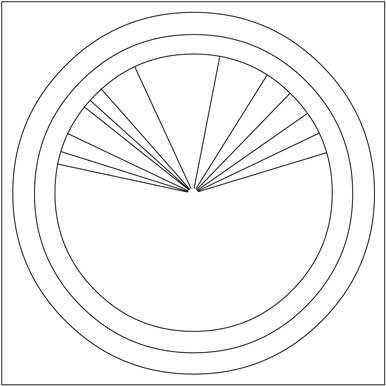 It's time to examine the true nature of joy and how you're using it. In this particular situation, Hummingbird appears out of nowhere to ask you two simple questions:
"What are you finding joy in and is it life-affirming?"
You can take joy in many different things – the soft touch of a baby's skin or a rough roller coaster ride. One is not better than the other and enjoying one does not preclude enjoyment of the other. It's a matter of choice. Your heart could be asking you to let go of the need for "just one right way" or "perfection." If, instead, you could go for joy and follow it to its heights, you'd probably be a lot happier.
Hummingbird could also be calling your attention to how easily joy can become twisted. Reconsider what you find joy in. Some people create competitive situations in their lives because they enjoy improving their performance. Some enjoy being right, solving problems and appearing intelligent, yet in order to have these experiences, someone else has to be wrong, or the situation has to be filled with problems and ignorance. Notice how people who love to complain seek out things to complain about. Look deeply into the Circle and ask, "How might I be creating unhappiness for myself? Is this what I really want?"
Some people actually enjoy having problems because they enjoy getting the attention. Could you be indulging in this inadvertently? If you are, it might be useful to notice how this temptation sucks the joy out everything around you. You can choose to focus your joy differently.
Sometimes, we humans turn things that could be joyful into conflicts because we over-complicate them. Following a path of pure joy is also a path of simplicity. Hummingbird says, "Keep it simple."
Gaze at Hummingbird's Circle and ask your Soul: "Am I over complicating this?" If so, how can you simplify and make it joyful again?
---
Hummingbird Medicine is an excerpt from Gifts from the Rainforest
Available exclusively From Soul Resources LLC:
OPEN YOUR HEART AND MAKE FRIENDS WITH HUMMINGBIRD MEDICINE
Inspired by Design Therapy from the native tribes of the Amazon, the fifty-eight Intuitive Learning Circles and animal totems from Gifts from the Rainforest are self-healing tools for nature lovers who want to accelerate their spiritual growth and intuition.
♦ Find emotional healing  ♦ Deal with repetitive habits & attitudes that keep you stuck  ♦ Develop common sense  ♦ Learn to trust your gut instincts.  ♦ Receive messages from plant, animal & nature spirits.
---
Disclaimer:
The Intuitive Learning Circles should not be considered as an exclusive method of treatment. The appropriate medical or psychotherapeutic authorities should be consulted for the diagnosis and treatment of any medical or psychological condition. The information and practices described on this website are best considered as an adjunct to orthodox medical or psychological treatments.