Living In the Light with Fish Medicine
Self-care and Personal Growth through Gifts from the Rainforest: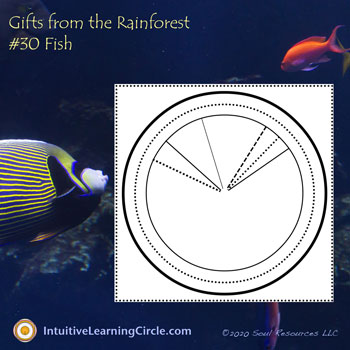 30. Fish Medicine – Fish embodies compassion and forgiveness. By letting others see our light, the world becomes a better place.
Are you hiding your light?
Is it being interfered with? 
Are you out of your depth?
If so, what would help?

Healing Action: Travel in circles with those of like-mind. Radiate the best of who you are. Gather up your gifts and follow the Light. Let your light shine. 
---
Fish School
Tropical fish bring light and color
into the depths of darkness.
Innocent and vulnerable,
they make their way through the water in groups.
The ego defines these qualities as weak and submissive
and so it seeks to hide our light.
But fish does not see it that way.
He knows that all things have their purpose, including him.
It is his purpose to defy danger by dazzling it with his beauty.
Learn from fish by filling your heart
with compassion and forgiveness.
Boldly shine your light and
display your gifts for all to see.
Delight in the abundance and beauty of fish medicine.
---
Mind Body Integration
For best results, gaze softly at the Circle both crossed over the midline of the body and uncrossed so that the communication is more complete.
Intuitive Learning Circles help you access your inner guidance and self-confidence to make proactive changes. Simply relax and gaze at the Circles while contemplating its message and positive affirmations. Your intuition will come forward and give you the help that you seek.
---
Further Exploration into Fish Medicine: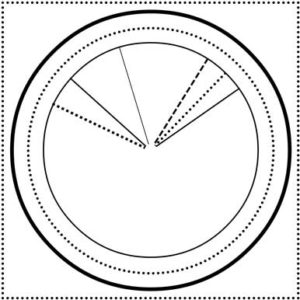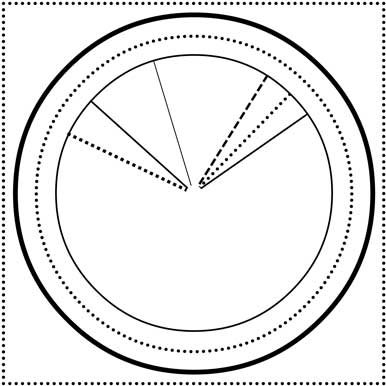 You've been wishing things were different, but the difficulty has more to do with the company you've been keeping. It's time to ask for help in finding others who share your values and goals. This is how you will find the appropriate answers and encouragement. When you move in circles of like-minded people, the light of each individual is magnified and becomes a part of an enormous collective energy.
If you're feeling alone and unsafe, it's very possible that you haven't chosen the best circles to travel in. Learn to choose friends and companions that know how to nourish themselves appropriately. That way, you'll be able to give freely and be given to in return.
Be cautioned though, sometimes a group can get caught up in retrograde movements, pulling them downward into a spiraling cascade of illness and bad luck. The ocean depths are filled with predators who dangle bright lights and shiny objects to capture their dinner. Know when an innocent adventure has turned dangerous.
The natural environment for tropical fish is one of light, color and abundant life. Gaze softly at the Circle and ask your Soul, "Am I traveling out of my depth?" If the answer you get is "yes,"  it's time to gather yourself up with all your natural gifts, talents and skills. Once you have them, make your way back to your natural and intended environment. It's time to place them under the loving light of your Psyche and Soul.
It may be that you've been expecting the worst in life and getting it. You could be participating in malicious gossip or allowing yourself to be bothered by the gossip of others. If so, you're blocking the flow of prosperity and giving yourself an abundance of bad luck instead. The proper remedy is to compassionately forgive yourself.
If you have already thought any of the above or heard it from others whom you trust, it's time to really stop and pay attention. You are doing yourself harm. Still the mind and listen to your heart.
---
Fish Medicine is an excerpt from Gifts from the Rainforest
Available exclusively From Soul Resources LLC:
OPEN YOUR HEART AND MAKE FRIENDS WITH FISH MEDICINE
Inspired by Design Therapy from the native tribes of the Amazon, the fifty-eight Intuitive Learning Circles and animal totems from Gifts from the Rainforest are self-healing tools for nature lovers who want to accelerate their spiritual growth and intuition.
♦ Find emotional healing  ♦ Deal with repetitive habits & attitudes that keep you stuck  ♦ Develop common sense  ♦ Learn to trust your gut instincts.  ♦ Receive messages from plant, animal & nature spirits.
---
Disclaimer:
The Intuitive Learning Circles should not be considered as an exclusive method of treatment. The appropriate medical or psychotherapeutic authorities should be consulted for the diagnosis and treatment of any medical or psychological condition. The information and practices described on this website are best considered as an adjunct to orthodox medical or psychological treatments.