Rheanni Lightwater, CKP, CHT offers online stress management sessions and Mind Body Healing in Santa Fe, New Mexico.
Services include: Reiki, Hypnosis, Energy Medicine, Medical Intuition, Dream Tending, Applied Kinesiology, Trauma Resolution, Feng Shui & Epigenetic Healing.
---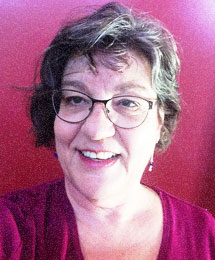 Rheanni Lightwater is an award winning author, hypnotherapist and practitioner of mind body healing in Santa Fe, New Mexico. She is the co-founder of Soul Resources LLC and has been in the healing arts since 1991. Her background is in trauma resolution, somatic education, shamanic and energy healing using Reiki and Energy Kinesiology. She has spent the past twenty-three years writing, researching and developing the Intuitive Learning Circle method in private practice, medical clinics, workshops, classes and school rooms. Her unique approach to energy medicine and mind/body integration has allowed both children and adults to free themselves from limited thoughts and behaviors that can contribute to serious illness, learning disabilities and emotional distress. Highly sensitive people learn to develop healthy boundaries and access their creative talents.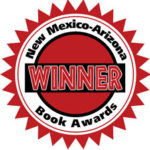 The inspiration for her award winning books and games come from her studies of Hypnosis, Reiki and Somatic Education techniques together with indigenous healing through Hawaiian Huna, Tibetan energywork, Peruvian shamanism and feng shui principles.
In 1991, Ms. Lightwater began her basic bodywork training and quickly expanding into Hawaiian Huna, Cranial Sacral Therapy, BioSomatics and Structural Integration. Later, she received certification in Hypnotherapy, Touch for Health, Kinesiology and became a Master Teacher in Reiki and Karuna® Reiki and Grail Reiki.
Being a consultant and teacher to alternative health professionals, business owners, patients and their families has given her a broad perspective of dealing with stress induced symptoms and the mind body connection. Her first hand experiences with Post Traumatic Stress Disorder and environmental sensitivities make her approach compassionate, practical, expert and keenly felt.
Exploring the mystery of ch'i or life energy continues to be a joy for Ms. Lightwater as she shares her knowledge about mind body healing with those who want to strengthen their own intuitive skills and empower their highest potential.
---
Testimonials for Mind Body Healing in Santa Fe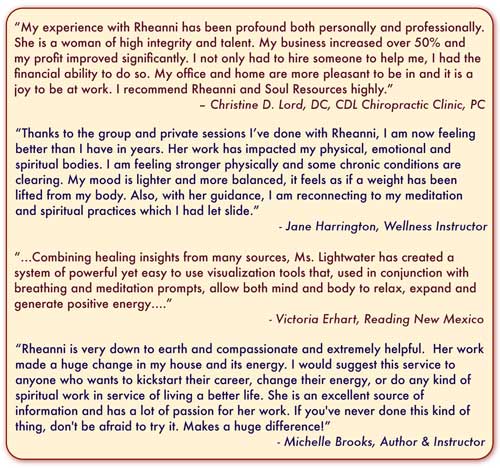 Learn more about Mind Body Healing in Santa Fe or Online with Rheanni
To schedule an initial consultation, call (505) 271-4612 or you can send an inquiry to [email protected]
Payment Methods: Soul Resources LLC accepts cash, checks and you can use a credit card through Paypal or Square.
---