June 13th – June 28th, 2021 Intuitive Reading from the I Ching or Book of Change: Navigate Confusion and Resistance through MODERATION.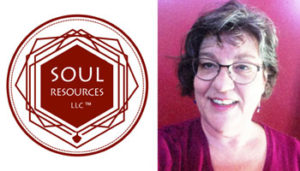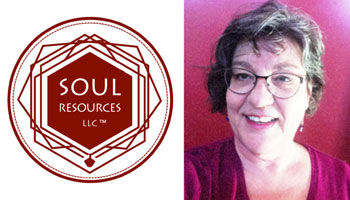 In this intuitive reading, Soul Resources offers a variety of SOS formulas and Transformation Games using the Intuitive Learning Circles and the I Ching to help us navigate confusion and get on the path to a better world based on the Common Good. 
The I Ching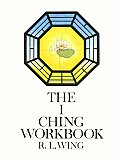 The original intent of the I Ching was based on an Eastern philosophy of observation and marking changes in natural and human events. Through many centuries and contributions from shamans and master teachers, including Lau Tzu and Confucius, the Book of Change was developed into a full philosophy for applying beneficial human conduct to varying circumstances. The Art of Feng Shui is part of that philosophy.
---
Exploring the Central Energy for the Year –
Navigate Confusion with the Tarot
2021 is a number five year (2 + 0 + 2 + 1 = 5) and is represented in the Tarot by Major Arcana card #V the Hierophant and #14 (1 + 4 = 5) Temperance.
The number 5 is about the five senses and our ability as humans to use them to navigate experience. The Hierophant is a Major Archetype about choices, authority and the ethics or morals involved with those choices.
The number 14 represents wholeness, unity, perfect order and permanence – providing a whole foundation. The meanings of the Temperance Card are patience, mental equilibrium and finding the Middle Way through balance.
---
The Chinese Zodiac
This year's Chinese Horoscope animal is the Yin Metal Ox, which began on February 12th and will continue January 31st, 2021. The positive qualities of the Ox are generally described as strength, devotion, hard work, honesty and positivity. This Feng Shui Mandala for the Double Green Ox is designed to help us take the best advantage of her hard working energy.
However, on the dark side, Ox also has a tendency to be stubborn, shy, with overly prudent or cautious behavior. She might resist change by blocking things and digging  in her hoofs without budging an inch.
A major consideration of managing Ox energy in 2021 is how to apply your efforts effectively into situations, people and projects that will help you navigate confusion and increase your productivity and momentum.
If you are having trouble harnessing the positive energy of the Double Green OX, we have a Transformation Game for that here.
---
The I Ching: June 13th – June 28th, 2021 – Navigate Confusion through MODERATION.
The I Ching energy has been traveling in a multiple highway pattern since April 4th and is likely to remain that way throughout most of the month of May.
Whenever that happens, Kuan Yin advises me to "follow the middle road" or the road of MODERATION – the path that is guided from within.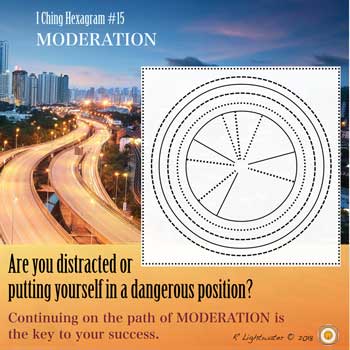 "In difficult times, it's usually best to move with the flow of MODERATION, Hexagram #15, where 'The predominant forces … are in the process of balancing extremes and harmonizing interests.' ~ The I Ching Workbook, R.L. Wing
The ancient Chinese text describes finding MODERATION as the best way to make progress amidst chaos. The suggestion is to disengage from extremes or opinionated attitudes and then follow the guidance that comes from within instead. In almost any situation, if you are able to walk the middle road between extremes, there will be improvement in whatever you undertake.
Here are selected excerpts from the text of Hexagram #15 MODERATION, as translated by R.L. Wing:
(MODESTY)
"Nature balances itself with plagues, droughts, and cycles of overabundance, and human nature strives toward MODERATION in its tendency to reduce the excesses of the over powerful and to augment the needs of those who are desperately wanting.
Worldly matters can now be brought to success through MODERATION. Leaders should strive to firmly carry their objectives through to completion, not with a show of extraordinary force but with the continuing sincerity that springs from their true natures… The self-evident, self-actualizing demonstration of purpose is the mark of great leaders acting with MODERATION.
In social relationships, avoid extremes. People who are overly intelligent or overly ignorant tend to extremes in their behavior and attitudes. You should now concentrate on establishing harmonious equilibrium with your fellow man and bring MODERATION and order to social institutions. This not only means avoiding radicalism and ostentatious values, but also tolerating weaknesses and inferior elements. "Everything in moderation" means just that.
…This inner equilibrium aligns you with the tao, thus bringing you into harmony with forces that can work for you."
Special advice to note from the Bottom Changing Line: "If you can carry out your proposed endeavor quietly, competently, and thoroughly, without obvious announcements of your intentions, you can achieve even significant aims. With a modest and disciplined attitude, you do not create resistance or invite challenge."  ~ Hexagram #15 MODERATION, The I Ching Workbook by R. L. Wing
---
Soul Resources To Navigate Confusion: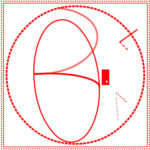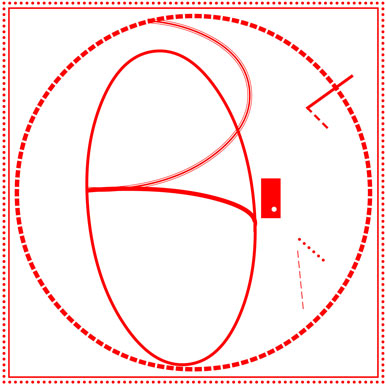 This leads us to the movement of the Collective Psyche, which is upward this year. Last Year was a Year of going In and when people bucked against their better angels, they went Out, causing unnecessary ill will, suffering and divisiveness towards the collective good.
This year, our better angels are advising us to rise up and above the turmoil and darkness that festers below by following the Middle Road. As always, Kuan Yin offers her help and assistance through a specially chosen collection of Transformation Games, Mind Exercises and Self-care Formulas.
Gaze softly at the SOS symbol and ask for a number between 1 – 15.
Scroll down to that number and check out what that process has to offer you.
---
Transformation Games and Mind Exercises ~
When the I Ching Energy is confusing and chaotic – striking a balance through MODERATION is generally the best plan.
It seems that everywhere and every day, there's more things to be irritated about. However, are you letting them drain your energy or send your mood downward, into the pits? If so, its time to stop scratching the itch and head in a healthier direction.
Ant Medicine from Gifts from the Rainforest can help you stop buying into intrusive thoughts or intentions others may have for you and let go of your own prejudices.
In our rush to "fix" things, we often create unintended consequences, complications and CONTRADICTIONS. Now is a a good time to slow down, get present and examine your goals more carefully.
Transform your life by seeing if you currently need some increased self-awareness around an important aspect of flow in your life.
---
Following the Middle Road Will Help Us With Our Emotional Stress ~
"The time calls for self-discipline. When difficulties arise, do not place the blame upon others. Once you begin to take responsibility for your own destiny you can bring order to your environment." ~ Sixth Changing Line, MODERATION, The I Ching Workbook by R. L. Wing
If you are struggling with the massive amount of stress and loss going around and through you, Join us! Sign up for our new series – SOS – Navigating Loss and Compassion Fatigue.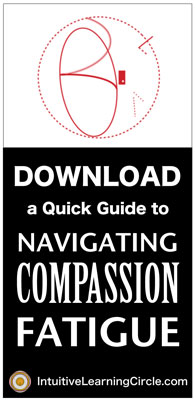 SOS Self-care Formulas and Mind Exercises can help you navigate confusion and restore yourself:
6. Learn to Change with the Changes. It's easy to be disappointed about sudden changes in plans. Uncertainty seems to be everywhere. This formula can help you change more gracefully and let go of what needs to be released. 
7. Creating Internal Safety. When our creative energy becomes stagnant or gets caught up in emotional entanglements, our physical, emotional and spiritual health suffers. This simple exercise is designed to help you go within and come up with important resources for staying healthy in your environment.
8. Overwhelm Help. Many of us are completely exhausted by recent events – even just the past few days! If you are experiencing any symptoms like overwhelm, exhaustion or collapse, this is the quickest way back to some balance.
---

Chakra Healing and Clearing ~
Recommended Transformation Games and Mind Exercises to Keep You Moving with the Flow, Rather than Against it.
Because the chakras react to and reflect other subtle energy systems, an imbalance in one of the seven Primary Chakras is usually an indicator of a deeper imbalance affecting many people. Therefore, we're using the Primary Reiki Chakra Keys to help you identify what needs correction and bring new meaning to the old axiom: "When I heal myself, I help to heal the world."
Directions: Gaze at each Circle and ask: "Is this chakra balanced?" If the answer is no, click through to the game or exercise and see if it helps.
The healing recommended on this level is associated with the Root Chakra. To establish new grounding in the New Paradigm, we need ways to release harmful patterns and collective karma that perpetuates abuse and prejudice. This Transformation Game will help.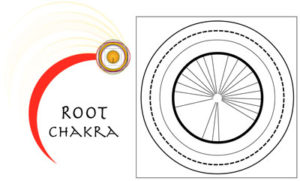 Find out more about the First Chakra>

The balancing recommended on this level is associated with the Second Chakra. Liberate yourself from unhealthy habits and projects. Use this Mind Exercise to get "body information" about how you're NOURISHING yourself and what you might do to improve.
.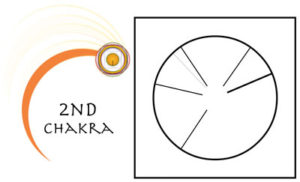 Find out more about the Second Chakra>

The healing recommended on this level is associated with the Third Chakra. In times of confusion, accessing balanced and truthful intuition is incredibly helpful. This Mind Exercise will help.
!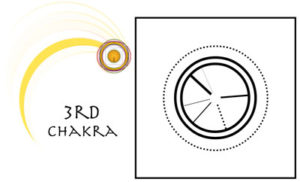 Find out more about the Third Chakra>

The healing recommended on this level is associated with the Heart Chakra.   There's a lot of emphasis on looking good lately. If you're feeling like you need to be perfect and it's shutting you down, this Mind Exercise will help you recalibrate and go for what's truly important.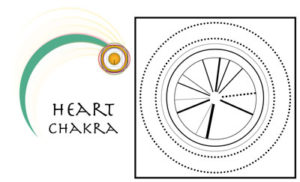 Find out more about the Fourth Chakra>

The healing recommended on this level is associated with the Throat Chakra. Unexamined agreements are often the cause of stalemate, misdirection, failure to heal, unnecessary stress and inner conflict. This Mind Exercise will help you determine whether your agreements are working for you or against you.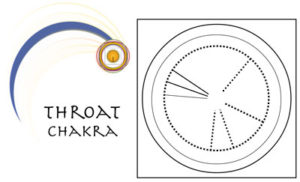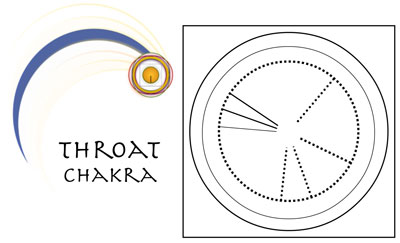 Find out more about the Fifth Chakra>

The healing recommended on this level is associated with the Third Eye Chakra. With so much uncertainty and confusion, there's no telling what kind of situations you might step into inadvertently. This Mind Exercise will help you bring claivyance, hunches and other unconscious information up to the surface to be examined with insight and intuition.
.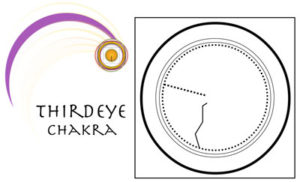 Find out more about the Sixth Chakra>

The healing recommended on this level is associated with the Crown Chakra.   This Mind Exercise is a clearing that will help you balance your chakra system so that it's flowing in harmony with life affirming polarity.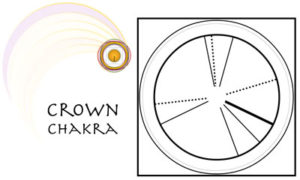 Find out more about the Seventh Chakra>
---
Thank you for joining with us for Todays Intuitive Reading and being a part of the movement into a New Paradigm of common good and common ground!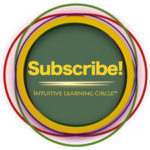 Please share if you know someone you think could benefit.
---
About the Author of Todays Intuitive Reading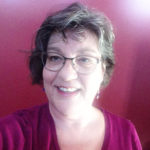 Rheanni Lightwater CHT, CKT specializes in online mind body healing and COVID support using Reiki Energy Medicine, Hypnotherapy, Dream Tending and the Intuitive Learning Circles™. Specialized protocols include Advanced Energy Recalibrations for:
Enhanced Immune Response

Respiratory and Circulatory Health

Overstimulated Nervous System and Immune Response
Digestive and Intestinal Health
Sleep Difficulties and Nightmares
Chemical Sensitivities and Static Electro-magnetic Clearing
Trauma and Compassion Fatigue
Long distance intuitive readings are available with Rheanni (Ray-ah-nee). Find out about her online Intuitive Readings and Clearings.
Schedule with Rheanni via Zoom, FaceTime or in person when you visit Santa Fe, New Mexico. Call or text (505) 271-4612 between 10:00am – 5:00pm, MST, Monday through Friday to schedule or email: [email protected]
---
Disclaimer:
Todays Intuitive Reading should not be considered as an exclusive method of treatment. The appropriate medical or psychotherapeutic authorities should be consulted for the diagnosis and treatment of any medical or psychological condition. The information and practices described on this website are best considered as an adjunct to orthodox medical or psychological treatments.